บริการให้เช่า Telepromter ราคาถูกพร้อมทีมงาน
บริษัท คอนเวนเทค นำเข้าเครื่องเทเลพรอมพ์เตอร์ ที่เป็นเทคโนโลยีที่ช่วยให้เหล่านักพูด พูดได้อย่างคล่องแคล่ว
Teleprompter ใช้สำหรับอ่านข่าว อ่านบทความ สามารถใช้ได้ทั้งในและนอกสถานที่ ใช้งานง่าย สามารถรองรับทุกภาษา ปรับเพิ่มความเร็วของการอ่านได้ตามความต้องการ 
TELEPROMPTER FOR IPAD/TABLET
Leadership speech, Mobile studio shooting, Studio photography. Portable and Steady: Aviation type slide way, portable and durable, integrated design, fixed used with all kinds of cameras and tripods, easily disassembled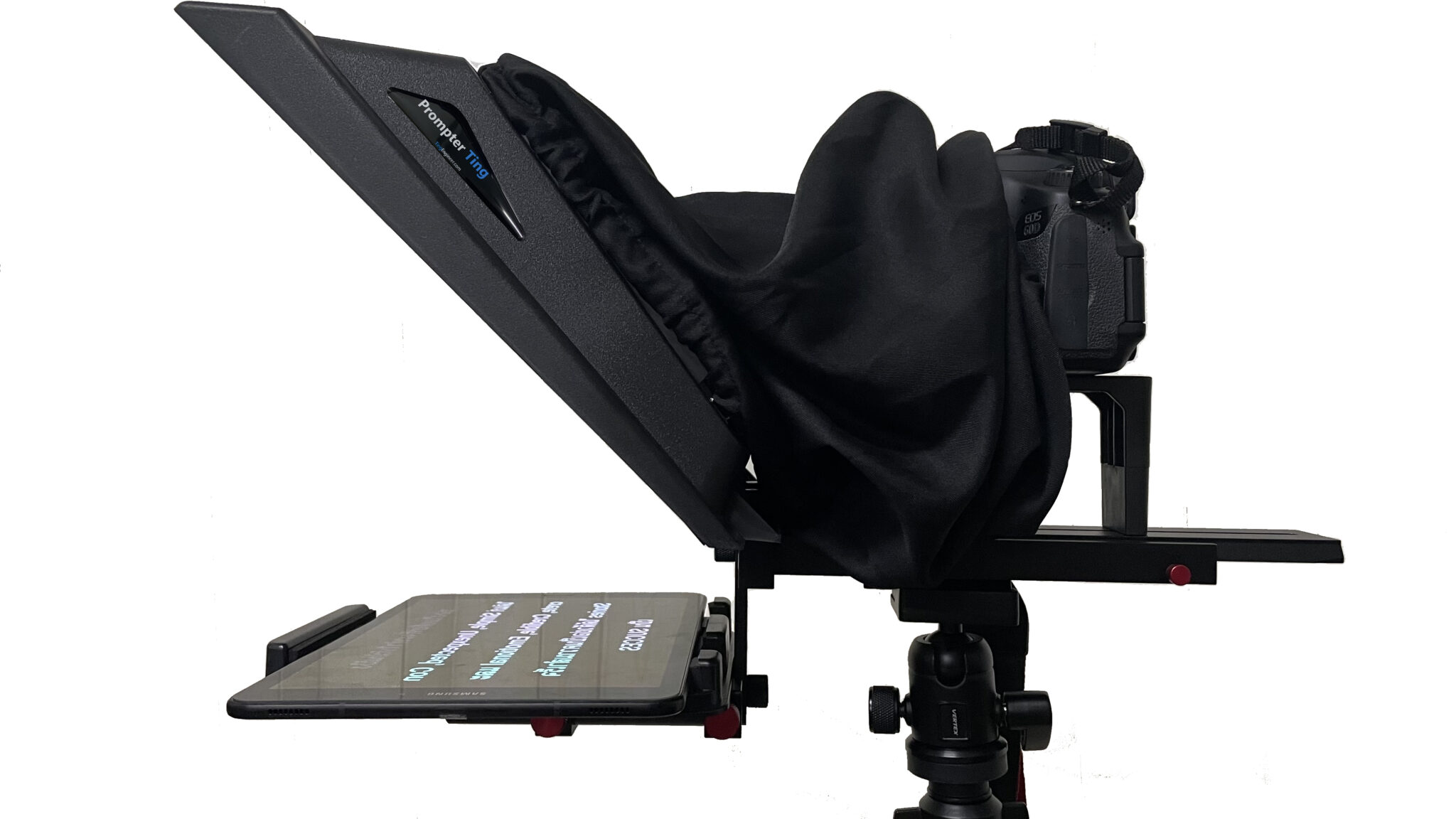 Teleprompter ราคาเช่าต่อวัน 3,500 / วัน (ไม่รวม IPAD)
** ไม่รวมทีมงาน ลูกค้าสามารถนำไปรันระบบเองได้ ทางบริษัทจะสอนการใช้งานในวันมารับของ **
1. For under 10 inch of IPAD/Tablet PC, Structural Design Light; Integrated Using Structure of Camera and Telepro mpter; Fixed Used with all kinds of Cameras and Tripods, Easily Disassembled.
2. Ultra-thin anti-reflection spectroscope with multi-medium film and no chromatic aberration, anti-dazzle highlight display technique; clear vision, stable text, bright images, high resolution, large character, high brightness, Jitter-free
3. The design of camera height adjustment device, apply to kinds of cameras.
4. The software interface is simple and easy to operate, the new learner can be good at the software within 5 minutes.
High quality:
Reflecting screen: professional LCD screen.
Imported super slim medium optical glass.
Range of visibility: more than 2 meters.
Bright image, high resolution: 1024*768pixels.
Wide viewing angle: level 140, vertical 130.
The image is still very clear in a quite bright studio environment.
High performance:
Independent hand operated bracket to hold the teleprompter. 
The teleprompter is separated with the camera bracket, 
and it is much easier to move, adjust, disassemble, carry and operated.
Unique function of hand operated to go up and down: crank device and thread are all die cast aluminum frame.
Software compatible with iPad, application convenient, flexible operation.
Professional display can use AV input directly . The camera and computer can be mixed use.
All models of this series can add the function of image self-test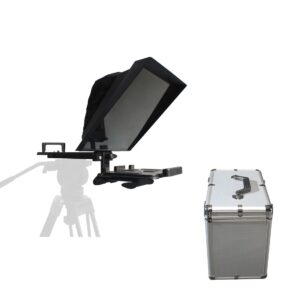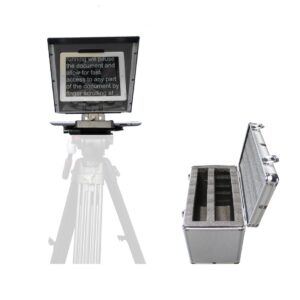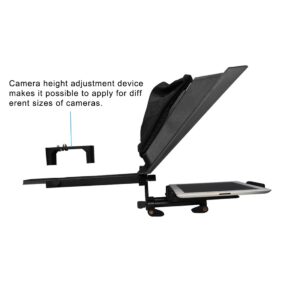 Portable Remoter Control iPad Teleprompter with Carrying Case
Price : 16,050 Include vat 7%
(ไม่รวม IPAD)
No.

Item Parts

Quantity

Professional Spectroscopes

Portable Aluminum Alloy Box

Screws and Relevant parts

Miniature Camera Higher plane

Wireless manuscript controller

Specialized Tripod of Freestanding Teleprompter

File type Support: txt. ppt ect.

System: windows xp, windows 7,windows 10.

Note: users need one tablet by themselves.
368 Kaew Ngern Thong 2 Road  Klong Chak Phra
Taling Chan, Bangkok 10170, Thailand